Issuers' Ten Do's & Don'ts For A Successful Initial Public Offering
April 3, 2019
We hope this article will launch an interesting educational series for corporate issuers, shedding more light on the IPO process and urging companies to educate themselves meticulously on the IPO process and all possible consequent scenarios. We also hope this series will raise awareness of the importance to OWN this process and the ongoing responsibility of companies to adhere to the best standards in corporate reporting and communication to operate well regardless of changes prompted by macro or regulations.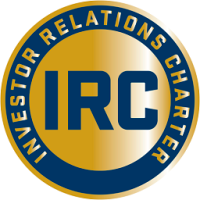 Wide Bridge, Inc. CEO and Co-Founder Alina V. Plaia Awarded Investor Relations Charter
December 12, 2018, Irvine, California – Wide Bridge, Inc. (WBI), a premier provider of investor relations and financial advisory services, is proud to announce that Alina Plaia, Company's CEO and a co-founder, has been awarded an Investor Relations Charter (IRC®) credential by the Certification Council of the National Investor Relations Institute (NIRI) – a global elite professional association of corporate officers and investor relations consultants.
About Wide Bridge, Inc.
Wide Bridge, Inc.® (WBI) is a premier investor relations advisory and financial services company that caters to the needs of small to mid-cap publicly traded companies and privately owned small and medium size enterprises. WBI specializes in pre-IPO assessment, capital markets advisory, investor relations strategy, corporate access and other investor-focused events, proactive investor relations management, private placement advisory, and all aspects of corporate communications. For more information please visit Wide Bridge, Inc. website.
About NIRI
Founded in 1969, NIRI is the professional association of corporate officers and investor relations consultants responsible for communication among corporate management, shareholders, securities analysts and other financial community constituents. The largest professional investor relations association in the world, NIRI's more than 3,300 members represent over 1,600 publicly held companies and $9 trillion in stock market capitalization.
Media Relations
Wide Bridge, Inc.
(949) 529 9000
info@widebridgeinc.com